---

At Mira Mar Andalusians we specialise in the breeding and training of cross bred Andalusian Horses. Our horses have been sucessfully shown in most disciplines from pony club to FEI dressage. One of our horses was exported to Switzerland early in 1998. Our horses are looked after from the day they are born. They are vaccinated, wormed and feed to perfection. The results are there for all to see. Just look at the pages of any of our horses. We start all our horses from the day they are born and their training is just a natural progression.
Mira Mar Hortelano
1999 National Andalusian Champion

The first pure spanish horse that we have bred and he is showing already at 3 a great potential. A very quiet horse he has taken to work in an amazing way. Broken in to saddle at three he was ready for a preliminary test after about 8 weeks. As a 6 year old he is currently competing at official medium level in dressage. Already achieving scores over 60% "Harry" is our next FEI candidate.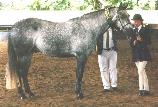 Mira Mar Tejsvi Sire Destino
A warmblood/thoroughbred andalusian cross, Tejsvi (Tay-ges-vee) or Indi for short was named by our friends in India. It means fleet at foot. He managed to hold off being born until we returned from our last trip to India.Mira Mar Tejsvi or Indi as he is known is a warmblood andalusian cross. Now competing with his new owner Di Baxter in New South Wales, Indi has been very successful in both Andalusian and Open classes. Excellent scores at Novice dressage and numerous championships put him well on his way to receiving his champion role of merit.
A bay mare Isis(or Cassie as she is known) is a 16hh thoroughbred/andalusian cross.
Sired by Destino she is a lovely mare. Currently working at Novice/Elementary level in her dressage. We feel that her real forte is one day eventing but her dressage is good enough for that to be her career. Straight in her action and pretty to boot she will be equally at home in the show ring.
Currently graded medium dressage Ra has consistently scored in the high 60's in his dressage. Owned and ridden by Racheal Phelan Ra was judged Australian National part bred ridden champion the last time the nationals were held in Victoria. It was more the more pleasing because the judge at this show was Sylvia Loch from England. Author of the book "The Royal Horse of Europe".
Mira Mar Pharaoh

Mira Mar Pharaoh or Marty as he is known is a 5 year old Warmblood/Thoroughbred cross. Currently having just been started he is some 17.2 hh and it appears that he is still growing. Having placed at his first dressage competition Marty is developing into a sound dressage prospect.

Peter & Laurie Brighton
MIRA MAR ANDALUSIANS Bells Beach Australia
90 Bells Road Bells Beach VIC 3228 AUSTRALIA
tel: + 61 3 52612923 fax: + 61 3 52612923 mobile + 61 412 533790
destino@miramar.com.au
http://www.miramar.com.au
Updated September 1998