Mira Mar Hortelano
3 Times National and /or Supreme Champion
1999 Royal Melbourne Show Champion Ridden Andalusian
1999 Royal Melbourne Show Reserve Champion Andalusian
1999 Australian National Junior Led Champion
1999 Australian National Champion Male Spanish Exhibit
1999 Australian National Supreme Champion Pure Spanish Andalusian
1999 Australian National Champion Ridden Andalusian
2000 Royal Melbourne Show Champion Andalusian
2000 Royal Melbourne Show Champion Ridden Andalusian
2002 Australian National Champion Hack
2002 Australia National Championships 1st Stallion 6yrs & over
2004 Australian National Champion Hack
2004 Australian National Champion Pure Bred Spanish
2005 Ridden Stallion Open Geelong Agricultural Show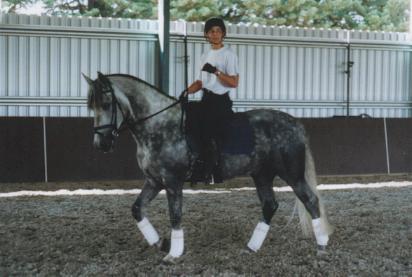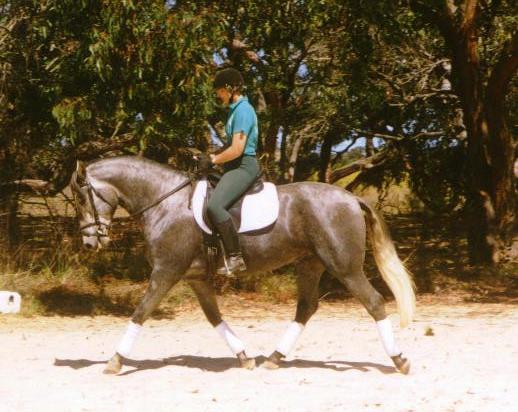 Mira Mar Hortelano
Mira Mar Hortelano or Harry as he is known is continuing in the long line of sucessful Mira Mar Horses
A wonderful temperament and a soft forward going horse we believe that Harry is going to be one of the leading Andalusian Horses of the future.
His recent performance at the Australian National Championship Show is testament to his breeding, his care and training. Possibly the only horse to win both led and ridden supreme championships, Harry is destined to make his mark on the Australian Andalusian Scene.
Here at Mira Mar Andalusians we are excited at his latest result and look forward to seeing his first progeny.
Currently being trained by Laurie Brighton, he is heading for a competitive dressage career

All enquiries should be directed to Laurie Johnson Mira Mar Andalusians destino@miramar.com.au (03) 52612923
---