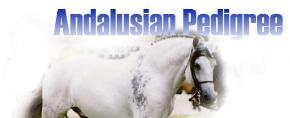 This database enables you to search the pedigrees of Australian registered Andalusian horses. In most cases there are up to 6 generations contained within the system.
This information is not to be taken as official, in all cases you should consult the actual studbooks for official details.
The size of the database has now been increased so much that it has been necessary to split the database into separate classes for purebred and partbred horses.
The information contained in these pages is copyright by the Andalusian Horse Association of Australasia.
The Stud Pedigree Programme is copyright by Mira Mar Andalusians 1998-2007